There's nothing like a magical night under the stars listening to music. When that experience includes one of my favorite artists appearing in one of my favorite places in the world, it's at the top of my bucket list.
It all came to be with a simple Facebook post.
Frank Manzi, a musician/songwriter from Springfield, MA, had started a series of videos called "In My Kitchen." This post read "I will be on the road this summer, if you will put me up at your house, I'll play a concert for you."
That same day, my best friend and his wife were visiting me in Brooklyn on one of their semi-annual trips to New York City for music and shows. They also have a propensity to opening their North Carolina home to musicians.
The seed was planted. I made the promise that if it came to fruition I would be there.
It did and I was. When he launched into Springsteen's "Thunder Road" and his original song "Rearview Mirror," I knew from the reaction that Frank Manzi has a new, dedicated following in "my hometown" of Morganton, North Carolina.
This is an example of how a social media idea can work. Frank was watching some of his "Kitchen" videos with his friend and songwriter Danny Burnini. They collaborated on the song "Family" and the kitchen video was getting great response.
"I had a gig way up in Maine and down in Tennessee coming up over the summer," said Manzi.
"Frank, you should do some home concerts, put it out on Facebook and see what you get," said Danny.
So he did. And the fans replied. In droves. And Wayne and Tonja were on the list.
What drew him to them?
"Tonja," said Frank. "Her enthusiasm was contagious. As much as enthusiasm comes through Facebook."
And when he arrived at their backyard, he was stunned.
Wayne has created a whimsical music venue where you cross a creek into a magical meadow hidden in the forest. Almost everything there is handmade in what Wayne calls his "therapy."
"I had just told Brian in Pennsylvania that his backyard was the best we played in," said Manzi. "He's gonna be a little upset that he got beat."
Social media has a way of creating connections that may never have occurred. I graduated from high school with Wayne Smith and have known him as a friend for over 40 years. Frank Manzi performed at Blandford Ski Area each season during my daughter's ski racing career. This became a six degrees of separation moment.
Frank is from Springfield, Massachusetts, and though it was one of my childhood homes, we had never crossed paths. I left in junior high school. Frank went to Forest Park Junior High School where he met Barry and Chris Kingston and discovered that they loved music as much as he did; I went to Duggan Junior High School less than three miles away and moved to North Carolina in 7th grade. Frank and his bandmates became local legends at Cathedral High School in Springfield when they had Father Dakota turn off the microphones to stop them from playing an encore at the Minstrel Talent Show. They began playing clubs in 11th grade.
---
Frank Manzi debuts his original song, Lucky To Have You, in Wayne & Tonja Smith's magic forest behind their home in Morganton, NC, as a stop on his "In My Kitchen" tour of performances in fan's backyards and homes on July 31, 2019. His band members are Chris Ryan on drums and Joe Boyle on electric guitar. More videos from the magic forest night are below.
---
He and Barry started The Breakdown, produced a video and won the MTV Basement Tape award in 1987, which led to a recording contract. But the grunge and heavy metal market took over and the band broke up in 1991.
Frank continued to write his own style of music. His followers throughout New England are rabid about his sound.
"It all comes down to the love of music," said Frank. And in Wayne and Tonja Smith's backyard, he found a new part of the country to spread his sound.
Morganton is 50 miles due east of Asheville, North Carolina. Over the past decade, Asheville has gained a reputation as a destination for snowbirds and music aficionados. Morganton was once known as a manufacturer of fine furniture but as the manufacturing went overseas, the plants around town closed and disappeared. But Morganton pulled a fast one and is reinventing itself as an Asheville satellite with an influx of boutique breweries, bars with performance spaces, and specialty shops in a vibrant downtown. It's not the town I remember from high school.
Catawba Brewery is a huge success story in town. Started by two brothers in an old mill in Glen Alpine (a Morganton suburb of sorts), the production facility and tasting room settled in downtown Morganton as a linchpin of the town's revitalization, producing and serving nine flagship beers as well as dozens of seasonal brews. With new satellite breweries and tasting rooms in both Asheville and Charlotte, the business has helped bring attention to Morganton. Their music stage is just one of several in a three block area that is bringing a new life to the historic downtown.
I loved it. And so did Frank Manzi. I can't wait for the next visit to see Frank in one of the downtown music venues, a visit that hopefully includes at least a couple of songs in Wayne and Tonja's magic forest.
All photos are available on
markdphillips.com
for framed artwork, website usage, and licensing. Or you can contact Mark directly by email: mark (AT) south brooklyn.net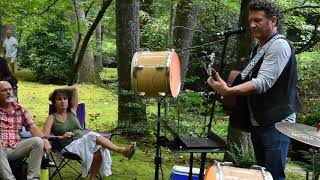 Just To Hear You Breathe by Frank Manzi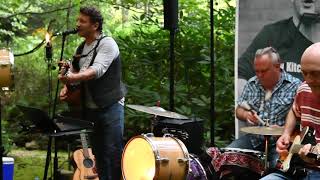 Better Days by Frank Manzi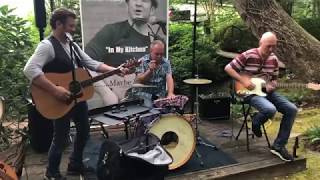 Rearview Mirror by Frank Manzi
Just To Hear You Breathe by Frank Manzi

<p>Frank Manzi plays his original song, Just To Hear You Breathe, in Wayne & Tonja Smith's magic forest behind their home in Morganton, NC, as a stop on his "In My Kitchen" tour of performances in fan's backyards and homes on July 31, 2019. His band members are Chris Ryan on drums and Joe Boyle on electric guitar.</p>

Better Days by Frank Manzi

<p>Frank Manzi plays his original song, Better Days, in Wayne & Tonja Smith's magic forest behind their home in Morganton, NC, as a stop on his "In My Kitchen" tour of performances in fan's backyards and homes on July 31, 2019. His band members are Chris Ryan on drums and Joe Boyle on electric guitar.</p>

Rearview Mirror by Frank Manzi

<p>Frank Manzi plays his original song, Rearview Mirror, in Wayne & Tonja Smith's magic forest behind their home in Morganton, NC, as a stop on his "In My Kitchen" tour of performances in fan's backyards and homes on July 31, 2019. His band members are Chris Ryan on drums and Joe Boyle on electric guitar.</p>